When an Abuse or Neglect court case begins, the courtroom is crowded with a judge, a representative from the social services agency, the biological parents, and attorneys. The child or children do not attend any of the court hearings. Even though the child should be the priority in the room, the judges, caseworkers and attorneys who determine the child's future simply do not have adequate time to understand the specific needs of each and every child. That's where CASA comes in...The Court-Appointed Special Advocate receives a Court-Order to become the advocate for the child or children in a specific case, attending all hearings and having access to all information regarding the case.
By speaking for the child, CASA ensures that the needs of the child are at the forefront when any decisions are made by the Court regarding the child.
As one local judge said, "The CASA volunteer is the eyes and ears of the Court, providing the information needed to ensure a safe, permanent home is determined for the child."
A Court-Appointed Special Advocate for a Child

After completing their training, these CASA volunteers were sworn in by the judge. They are eligible to be appointed as the CASA advocate for abused and neglected children in our service area, which includes Yankton, Clay, Bon Homme, and Union counties.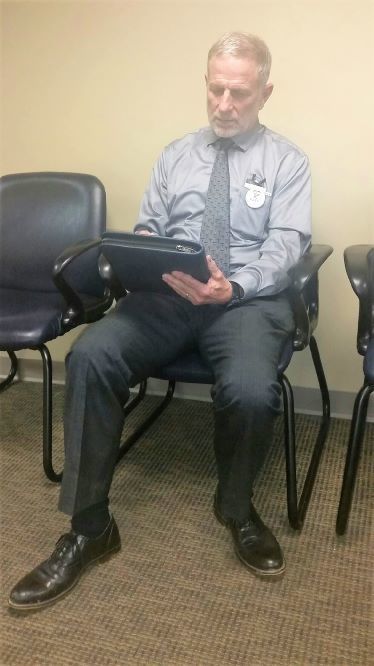 Southeast CASA volunteer, John L., reviews his notes before attending a court hearing for the CASA child for which he advocates.