CASA Volunteer Joanne Tieman
Southeast CASA mourns the death of our dear friend and CASA volunteer, Joanne Tieman. Joanne was a CASA volunteer in Clay County and served from 2015 to 2020. She was a dedicated CASA volunteer and took on some very challenging cases, making a difference in the lives of the children she helped. Donations have been received at Southeast CASA in memory of Joanne's work as a CASA volunteer.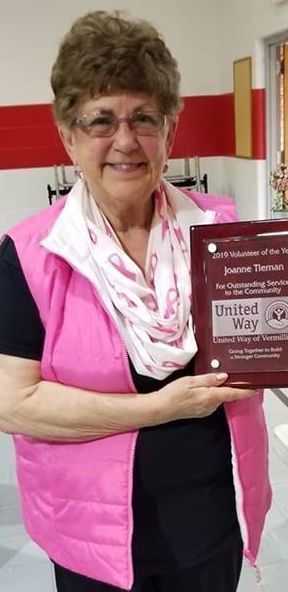 ---
We're Seeking New Board Members!
Southeast CASA is looking for a few talented and caring volunteer board members to lead and strengthen our program of providing free advocacy services for abused and neglected children in southeastern South Dakota. We're seeking adults from communities in Clay, Union, Turner, Bon Homme and Yankton counties who want to make a difference in the lives of local children in need. Learn more about Southeast CASA at www.southeastcasa.org. If you can contribute your time, thoughtfulness, and leadership, and are interested in exploring board service, please call the director of Southeast CASA at 605-760-4825 to find out whether this opportunity is right for you. We meet every 2nd Tuesday of each month at 4:00 via zoom since we have board members from other counties.  Please reach out to Stacy the ED at director@southeastcasa.org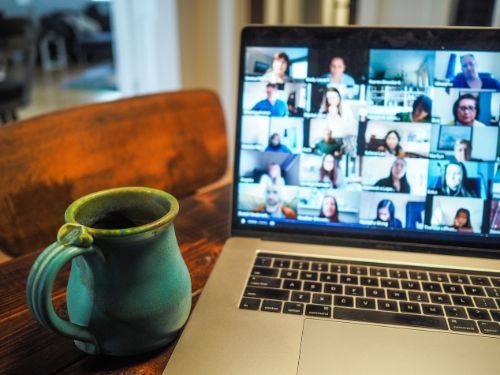 ---
2019 Friend of CASA Award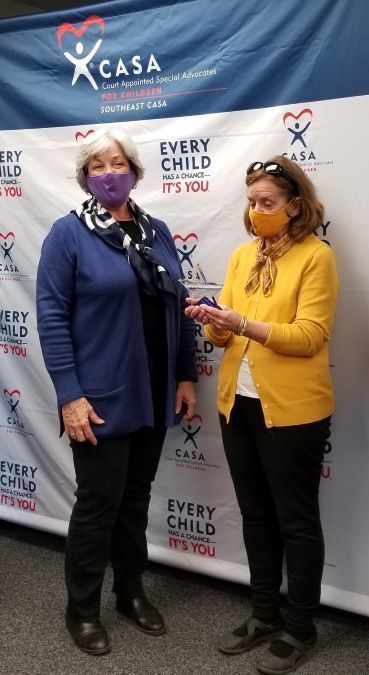 The Friend of CASA Award was to have been presented in March during our 2020 Reverse Your Luck fundraising gala in Yankton. Because of the outbreak of Covid-19, that fundraiser was cancelled, and along with it we had to postpone the Friend of CASA Award announcement.
We kept waiting for a time when Southeast CASA was having "something special" so that we could incorporate this award presentation. The pandemic put a stop to any large events, so we used the Nov. 12th Open House at our new office location to make the Friend of CASA Award presentation to Janet Stark of ALC Event Design.
"Janet has graciously assisted Southeast CASA with each of its gala events since we began hosting them in 2015. Whenever we asked for her help, she was quick to say "Yes!" Because of Janet's generosity, not only did our events look first-rate, but Southeast CASA was able to raise more funds to provide CASA advocacy for local children who had been abused or severely neglected. All of our current and past board members join the Southeast CASA staff and volunteers in thanking Janet for her invaluable support for the CASA kids," Said Sherri Rodgers-Conti during the presentation of the award.
Office Relocation Ribbon Cutting and Open House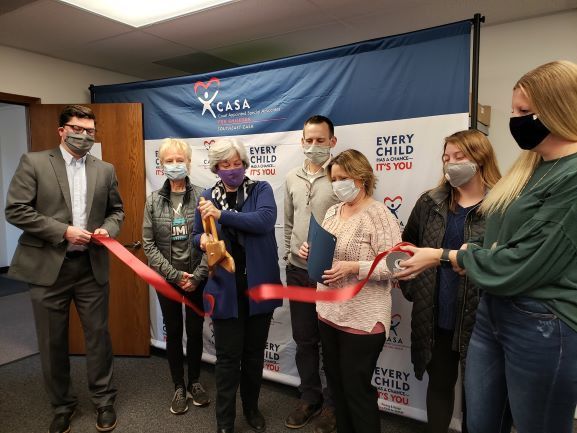 Southeast CASA has moved! Our offices are now at 413 W. 15th Street in Yankton.
We celebrated our new office location with an Open House and ribbon cutting on Nov. 12, 2020. The Yankton Chamber of Commerce Ambassadors and some of our board members and agency partners were on hand to see the new office and conduct the ribbon cutting. Thanks to those who attended!
L to R in photo above: Tyler Buckman, Daisey Kamback, Sherri Rodgers-Conti, Jesse Bailey, Kaye O'Neal, Emily Monier, and Sara Livingston.
2018 Friend of CASA Award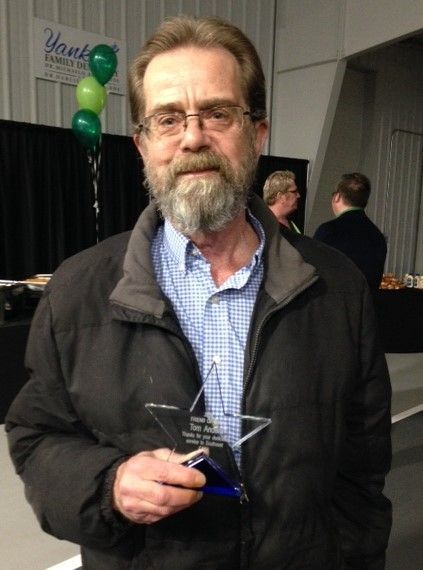 At the 2019 "Reverse Your Luck" fundraising gala, Tom Andera was recognized as the first "Friend of CASA" award recipient. Tom is the owner of Andera Bookkeeping and Tax Services in Yankton. He has been assisting Southeast CASA with its payroll processing since 2011. Because of Tom's invaluable assistance, Southeast CASA is able to help more abused and neglected children in our area. Thanks for all you do for the CASA kids, Tom!