Southeast CASA is participating in Giving SD this year!
Join other South Dakotans in making a donation to a local nonprofit on Tuesday, Nov. 27th in honor of Giving Tuesday. Of course, we'd like you to support Southeast CASA!
In November, we have Thanksgiving Day, Black Friday, Small Shop Saturday, Cyber Monday, and, last but not least, Giving Tuesday to launch the holiday season. This year, make sure to take a break from all of that shopping to spend a little to make a big difference for kids.
Giving SD is promoting Giving Tuesday in South Dakota. Southeast CASA is one of the nonprofit organizations participating in Giving SD this year.
Please go to the Donate page to make your gift.
Your Gift Makes a Difference!
Because of YOUR help, (as of July 1, 2018) Southeast CASA Program has advocated for over 146 abused and neglected children from Yankton, Clay, and Bon Homme counties since April 2012. Without CASA's involvement, these children would not have a voice in what happens to them.
No other program focuses entirely on the best interests of the abused or neglected child. Your gift will provide CASA advocacy for children who are removed from their homes due to abuse or neglect. 
Your donation will go a long way in making sure that these kids are placed in a safe, permanent home where they will have the best chance at a brighter future.
The children who have a CASA advocate attend school more regularly, are less likely to drop out of high school, are less likely to be delinquent, are less likely to become adults who depend upon welfare programs, and are less likely to raise their own children in homes of abuse or neglect. These are benefits to our entire community.
A CASA child is in the foster care and court systems for an average of 11 months. The cost to provide a CASA advocate for that child that entire time is the same as it costs for only ONE MONTH of foster care! If CASA advocacy can shorten the time that a child spends in "the system", we are saving taxpayer dollars while ensuring that the child is in a safe, permanent home.
Your support of the Southeast CASA Program is greatly appreciated.
Sponsor CASA Advocacy for An Abused or Neglected Child
You can provide a CASA volunteer for every child in Yankton, Clay, Bon Homme, and Union County who qualifies for one. 
In order to ensure that 100% of these kids has a voice in court, WE NEED YOU.
You don't want to have even one abused or neglected child go without advocacy. Your donation to the Southeast CASA Program will help these children. They need compassionate people like you to provide them with a voice in court when decisions are made about their future. Your donation will give them the gift of hope for a brighter future.
It costs $1200 to provide a child with CASA advocacy for a year. A CASA case is open an average of 11 months.
YOU can make a difference in the lives of abused and neglected children right here in our own area.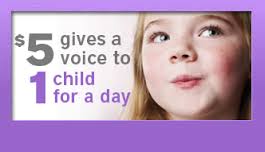 Thank you for your generous support of the Southeast CASA Program. YOU are giving an abused or neglected child a CASA volunteer who will be their advocate while he or she is in foster care. CASA is the eyes and ears of the Court, and promotes the best interests of the CASA kids when decisions are made by the Court.