Human Trafficking Presentation on Dec. 4, 2018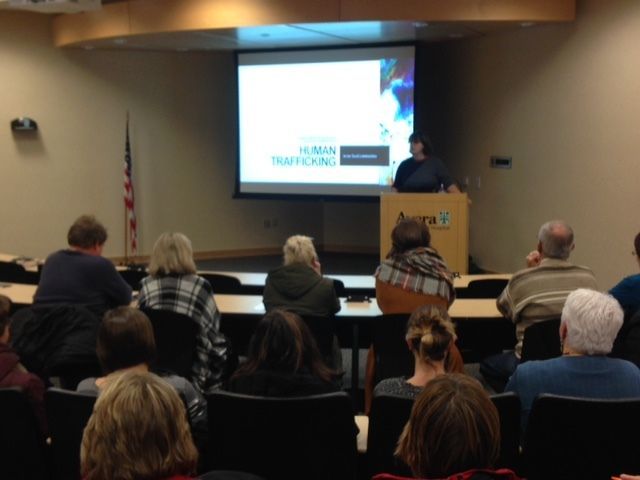 Yankton Press & Dakotan, Dec. 5, 2018. By Cora Van Olson cora.vanolson@yankton.net
Southeast CASA Sponsors Presentation On Human Trafficking In South Dakota
A local organization hosted a program Tuesday night on identifying, understanding and preventing human trafficking in our communities.
This fall, Sherri Rodgers-Conti, the director of Southeast CASA, saw a video of CASA volunteer Bridget Diamond-Welch giving a presentation on human trafficking at the Rotary Club in Vermillion and saw a direct connection between the mission of Southeast CASA and Diamond-Welch's area of study.
"One of our goals is to not only help children who've already been abused and neglected through our advocacy, but the other goal is to do what we can to prevent child abuse and neglect in the first place," Rodgers-Conti said. "This opportunity fit right into that goal of prevention because some of the people most vulnerable to becoming victims of trafficking are abused and neglected children, especially those kids who are never out of that abuse and neglect cycle."
Diamond-Welch is a fourth-year assistant professor of Criminal Justice in the Political Science Department at the University of South Dakota (USD). She studies sexualized violence, which includes human trafficking and sex trafficking.
"When people think of human trafficking, they think of something that occurs across borders and that there is massive movement," Diamond-Welch said. "People say, 'Well, the reason we have so much trafficking in South Dakota is because we have the interstate.' There's a piece of truth in that; that people are moved, but the reality is that people are trafficked within our communities by their own families. It's a part of domestic violence; it's a part of child sexual abuse. In order to be trafficked, you do not need to leave your own bed."
Most of the human trafficking cases in the United States are trafficked within the U.S. to American citizens. Those trafficked can be male or female, or any age or socio-economic class.
"When you have a child that is in an abuse or neglect situation in their home, they become more vulnerable to traffickers because they are not getting the love and support that they should get at home," Diamond-Welch said. "These are young adolescents, so they are really looking for that love and support, and become vulnerable to what area called 'Romeo' or 'boyfriend pimps.'"
These types of traffickers profess love for the abused or neglected teen, and soon demand that the teen prostitute themselves based on this fantasy of a loving relationship. This type of manipulation can also occur in dysfunctional relationships, and there are parents who sell their children, she said.
"The average entrance into prostitution in the United States is 13 years old," Diamond-Welch said. "And those are our girls and our boys that are getting prostituted, and prostitution of a young child is human trafficking."
The goal of the talk was to define human trafficking for the audience and give them tools to spot it and help address it in daily life.
"Human trafficking is something that happens (in South Dakota); it's just often invisible, we often don't know about it, and when we do know about it, we often don't associate the term human trafficking with the issue that is going on.
She explained that, by law, an act must have three components to be considered human trafficking: recruiting, moving, transporting or keeping or receiving a person; there must be force fraud or coercion; and there must be purpose, such as prostitution or unpaid labor or organ trafficking.
"We have these great jobs in the United States and you can come to be a nanny, and they recruit people as nannies and they come to the United States and their passports are taken away from them and they are forced into a trafficking situation. That's fraud," Diamond-Welch said. "Coercion is when you make someone think they don't have a choice."
Because it is hidden, trafficking is hard to track, but Diamond-Welch said that last year in South Dakota, there were 84 hotline calls about trafficking, the U.S. Department of Health and Human Services (DHHS) counted 278 cases.
"These are just the cases that we learn about," Diamond-Welch said. "There are so many more cases that we don't learn about, of people brought through on the interstates that don't get counted in South Dakota statistics."
According to the DHHS, Sioux Falls and Sioux City, Iowa, are hot spots for trafficking in the area, she said, but it does happen in (places like Yankton and) Vermillion, as well.
advertisement
Labor trafficking in South Dakota mostly involves people being forced to work in hotels or hospitality, forced agricultural labor, construction, health care (mostly aids), and health and beauty services, Diamond-Welch said. Because they are on the margins of society, undocumented migrants are particularly susceptible to coercion and trafficking.
"If you go to someone and they are trying to make money and you say, 'If you don't do this, we are going to call ICE, we are going to call Immigration Services on you,' you have power to use their immigration status as a source of coercion," she said. "This frequently can happen in the United States."
She pointed out that, as far as sex trafficking in South Dakota, there is a lot that goes on around events, like the Sturgis motorcycle rally, and also to tourism, like hunting season.
"The people that we look to if we want to stop trafficking are the people who are living at the margins," Diamond-Welch said. "The people who are economically insecure — they are food insecure, they might be experiencing abuse and neglect in their households, there might be drugs involved — those types of individuals are more susceptible to trafficking."
Her message to communities is that in order to prevent trafficking, it is necessary to care for thse people on the margins.
"So what can you do?" Diamond-Welch asked. "You can support issues like you've been supporting: supporting low-income individuals, providing food, fit ways to get shelter — any of that kind of assistance. If you can raise the boats and protect the people on the bottom, you are protecting, you are stopping human trafficking."
She also recommended supporting organizations that provide that type of support to people in need.